In this Good boss bad boss book summary, I will share my insights and the content I liked in the book.
Good boss bad boss- How to be best and learn from worst by Robert Sutton, A professor of management science at Standford university.
Robert has given many real-life examples, research-based data in the book, and insights from behavioral science research on being a good boss or avoiding becoming a bad boss.
What are the key takeaway from the Good boss bad boss book summary?
Why should you buy this book?
Why does the boss matter?
What do the best bosses do?
Strive to be wise
Know what you don't know
Serve as a human shield
Good boss bad boss covers research and case studies, and Robert's common-sense method makes this book relatable to any boss.
This is a must-read book if you are elevated to a senior position and supposed to manage the team like a boss.
You get to know the impact of good or bad boss behavior on immediate team members, their performance, and their perspective about you.
In this book, you will get information on how a bully boss can impact their team and the organization at large.
In this short, Good boss bad boss book summary, we will cover a few key insights I find helpful for any new manager.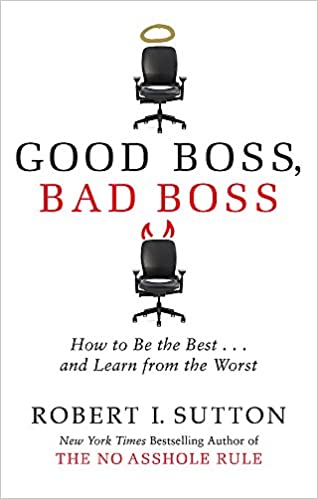 Why does the boss matter?
Boss matters because we all have a boss, or are boss to someone, or playing both roles.
Bosses matter most to the immediate team member you work to interact with regularly.
The success and failure of every boss depend on how good or bad he or he navigates this team? How does the team perceive him?
In the book, Robert gives an example of Two bosses with a different approaches in the same project team.
One who spent hardly any time with his team discussed their ideas or took an interest in team members' career aspirations, skills, strengths, and weaknesses.
Another drives the team by trust, taking the initiative, understanding team members, and learning from setbacks.
Guess who will be a more successful good boss. The answer is obvious.
Bosses can make teams experience joy or despair, perform well or worst, or even impact their health.
As leadership researcher Robert Hogan rightly says, " People do not quit organizations. They quit bad bosses."
What do the best bosses do?
If you want to be successful as a boss or you want to be a good boss, you are actions and words must always match.
If you don't believe yourself in charge, your role and life as a boss will be challenging.
Exciting research by Meindl on "Romance of leadership" states that leaders get more credit and blame from their followers than they deserve.
Boss matters to the immediate team most, yet they are not all compelling. As a result, we misjudge their deeds and words as drivers of performance.
The good boss knows they can turn this illusion of control to their advantage. So good bosses increase their actual control over their followers.
Some tricks to take charge
Talk more than others but not all the time, giving your team a chance to speak up.
Interrupt people occasionally, but do not allow them to interrupt you.
Cross arms when you talk.
Use positive and affirmation talk with self
Try a little flash of anger where it is required.
Ask your people what they need to succeed, and then try to give it to them.
Strive to be wise
The good boss plays well on the fence of overconfidence, but by keeping feet on the ground with a hint of self-doubt and humility, they can turn arrogant.

Bas boss always fails to strike a balance between overconfidence and self-doubt. This makes them a failure, incompetent, and too risky to follow as a leader.
Know what you don't know
Wise bosses always know what they don't know, they are brave enough to work on facts and details, but they look for where they may fail or what they need to know more?

A good boss is always looking for a balance between courage and humility.
Serve as a human shield.
The good bosses let their teamwork and protect them from outside obstruction, in most the cases, deal with them.
A good boss takes pride in acting as a human shield to his team, absorbing and deflecting heat from customers and upper management.
The team should always trust that their boss has their back; this brings out the best performance in any group.
In this short Good boss bad boss summary, I covered brief insights. I find it useful for more details. I recommend buying the book.
If you like this book, you will enjoy the following summary.